"The rupture between thinking and Being
is the primary wound of our culture."
— Philip Shepherd
One of my deepest convictions is that the work I do, if it were offered more widely, could enrich the lives of millions.  And I don't just mean in a 'feel good' way (although I have nothing against feeling good).  I mean in a paradigm-shifting, liberating, life-altering, change-the-world way.  The essence of my work centers on a resource that lies deep within us, and which our entire culture directs us away from: the deep, subtle, connected intelligence of the pelvic bowl.  It is so systematically neglected that most people aren't aware of its existence, and have limited access to it.  But it is part of the body's original blueprint and, like a neglected room, merely waits to be rediscovered: an inbuilt resource that is grounded in the calm of being.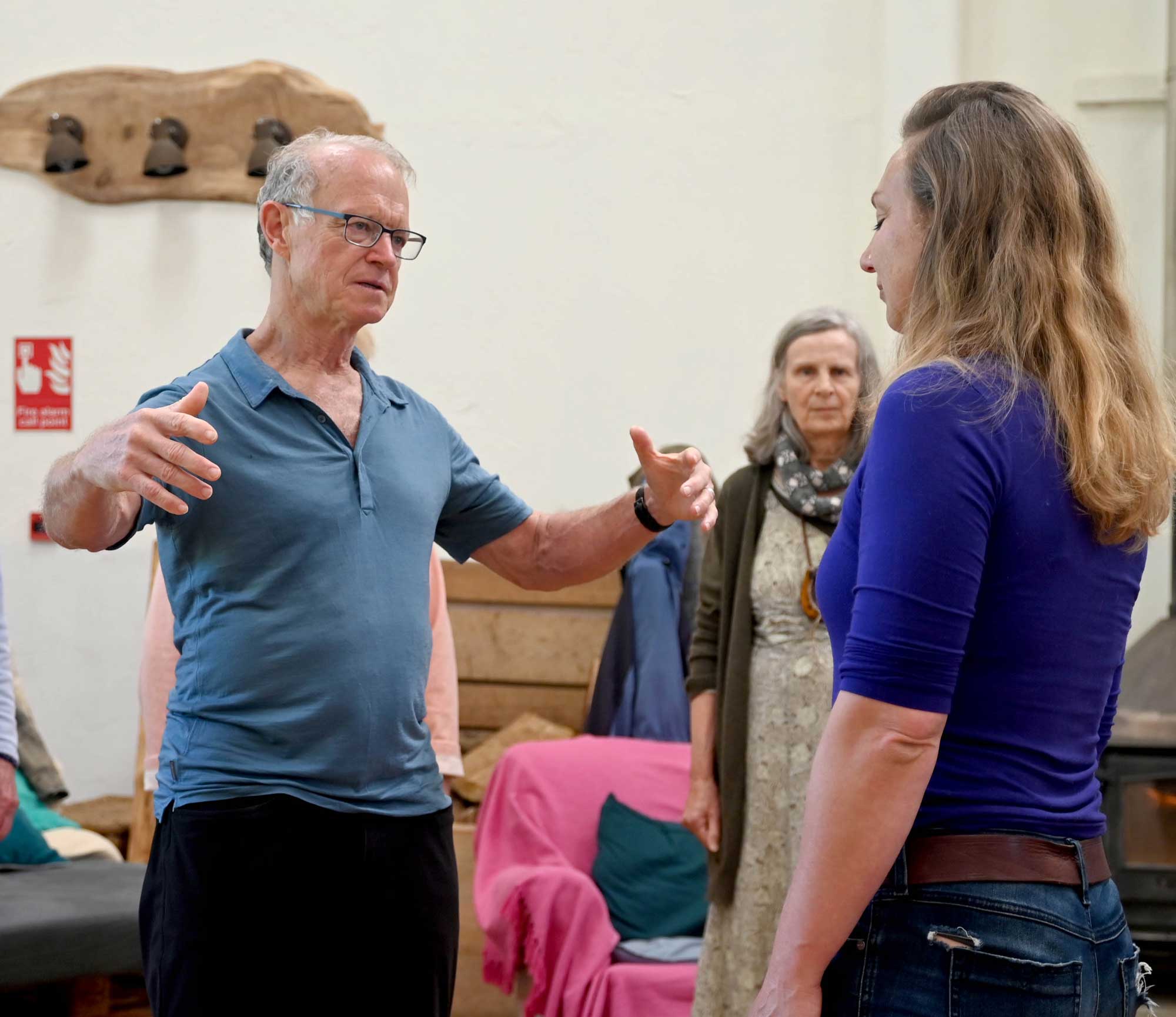 By helping us come to rest in the vivid present, it connects us to its companionship and guidance. If people could awaken to that resource within themselves, they could discover the ease that comes when we escape the restless confines of the head, which endlessly chases and rearranges our ideas about the world, and land instead in our own shining, connected, embodied truth.
Of course, as an individual I can only share the work with, at most, a few hundred people in a given year: each weekend workshop is limited to 20 participants. So I have been training others in sharing the work, to help it reach exponentially more people.
When I first announced the Facilitator's Training, one of the first questions I faced was: if I'm teaching this method, this way to wholeness, this principled means of embodiment – what should I call it? Lots of possibilities have presented themselves, and I thought about it for months before I finally settled on a name: The Embodied Present Process™ (or TEPP for short). The name points to the heart of what the work is about. In a nutshell, the work is an embodied process of surrender to the present that ultimately allows it to touch your core and live there, in all its mindfulness. That could pretty much stand as the mission statement of what I do. And that is why it's called The Embodied Present Process.
There are three main reasons that will draw people to join me on this adventure, and I honor them all:
Some people will be primarily interested in becoming facilitators of the weekend workshop.
Some people will already have practices as facilitators, coaches, therapists or bodyworkers, and will be looking to enhance what they are doing by integrating practices from TEPP.
Some will be there for the challenges and rewards of the personal growth it will support.
And many, I imagine, will be there for all three reasons.
Each training runs for a year, and includes three five-day retreats. It also includes weekly group zoom calls lasting an hour each, in which I share a practice, and we discuss an issue that's been posted to the group. The number of participants will be limited to 20, and over the year they will receive as much support as I can provide. The course will also provide a facilitators' manual and a key teaching aid. And it will also include fun, because it's in the spirit of play that we most fully engage and learn. By the close of the third session, participants will be certified to share practices from the weekend workshop.
When trainees have been sharing practices from the Radical Wholeness workshop long enough that they feel ready to facilitate the weekend workshop, Philip will meet on Zoom with the trainee to help them prep for that. When both parties agree the trainee is ready to teach the Radical Wholeness weekend workshop publicly, they will be listed as a Facilitator of the weekend workshop on this website.
Please note all facilitiator training participants must take a Radical Wholeness Weekend or Deep Dive Workshop, and this can be done any time before the training begins or between Sessions 1 and 2.
"Philip Shepherd is uniquely gifted in developing experiential exercises that allow us to feel our way out of the head center and back to the heart and belly, along the way, discovering our stuck energy – so softening and coming into harmony can once again be found."
— TEPP Facilitator Graduate, Marianne
The TEPP philosophy understands that the wholeness of an individual can only be understood as a quality of relationship: your wholeness is not contained within your skin – it exists as a dance with the energies of the world around you.
What our year together will look like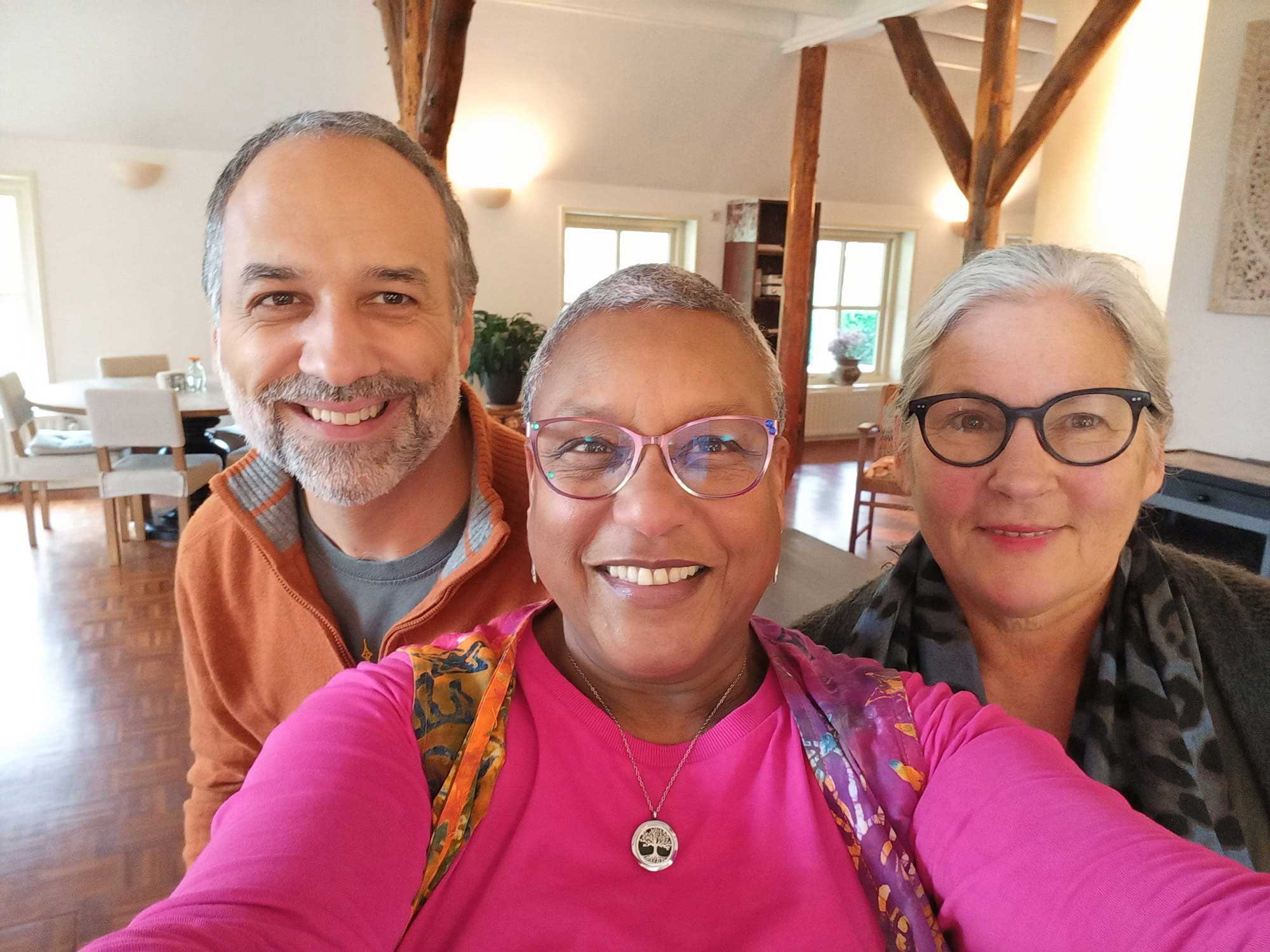 Our year together will be shaped around three retreats where we come together to practice and question and explore for five days. Between the retreats the work is supported by weekly hour-long Zoom calls (some informal, some formal). On most calls, Philip will lead an exercise and facilitate a discussion around a previously-sent out topic. When Philip can't be on a call an audio exercise will be sent out for the group to listen to together along with a suggested topic for discussion. The Zoom calls are a potent forum in which the work deepens in support of everyone's journey.
Session One
In this session Philip takes participants through a week of practices that underpin the weekend workshop, and helped him develop it. Each practice is designed to help people encounter a cultural blindspot that diminishes their ability to feel the self in the world, and to assist them in softening beyond that to stand in the clarity of their being.
Session Two
This session addresses the curriculum of the weekend workshop, and helps participants to understand each step along its journey, and to begin to achieve some mastery of its practices.
Session Three
Session three is the culmination of our year together, and always has a bittersweet quality to it. In our last five days together we introduce some variations on practices we've addressed over that time, and work through the curriculum of the weekend workshop with an invitation to everyone to select one of its practices to teach the group. There is a sense over this week of bringing the work home, bit by bit.
** To take part in the Facilitator Training you must first take a weekend workshop. This can be done any time, including immediately prior to the training. See FAQs below for more info.**
TEPP is for you if:
• self-help programs tend to leave you with a nagging sense of disconnection and isolation
• you long to feel more connection and security in your life
• you are aware of the intelligence of the body but lack clarity on how to integrate it
• you have studied "holistic" modalities and approaches, but once you leave the classroom they never seem to stick
• you are a yoga teacher or holistic practitioner/health professional longing to deepen your understanding of embodiment and your experience of its primary importance for well-being
• you are a cultural healer (activists, writers, artists) ready to explore on multiple levels the greater context of your work
• you are a creative (writer, artist, actor, singer, designer, entrepreneur) curious about the difference that switching from presentation mode into presence can make in your creative life
• you are a teacher (of any sort) willing to explore through your own body the impact that our culture has had on our ability to learn, teach, and engage
• you want to feel truly at home in your body, your life, and the world
There are three main reasons that will draw people to join the TEPP adventure, and all are honored:
• Some people will be primarily interested in becoming facilitators of the weekend workshop
• Some people will already have practices as facilitators, coaches, therapists or bodyworkers, and will be looking to enhance what they are doing by integrating practices from TEPP.
• Some will be there for the challenges and rewards of the personal growth it will support.
And many will be there for all three reasons.
What our facilitators are saying
"Life is a journey. So is the TEPP teacher training. The distance from first session through third is long, the view of what's to come is wide and spacious. Embarking on this course I had hopes and some expectations for an outcome. I had no way of imagining the ongoing deepening and richness of the learning that we as a group would experience. More than other group trainings, this class affected my relationships with my colleagues as we all more fully felt our way into this learning. One of the greatest gifts to me from this work, thus far anyway, is the gift of a quieted mind and a process and place where I will find that quiet mind as a path, not a goal. Shifting awareness to being, to process and to a journey without an end point is a subversively wonderful transformation that sneaks up on you, if you don't work at it."
"I love this work. If you have experienced profound shifts during the Radical Wholeness workshop, and are thinking about doing the teacher training, I would say don't hesitate. The softening of divisions continues as you deeply ground into the body and the world. It keeps going, getting richer and more profound. This shift into the pelvis, the ground of our being, is desperately needed by our world, and only by surrender does it happen. With the support of Philip and a group of fellow travellers, you can stabilize a new way of being in the world, allowing surrender again and again. There is wild, soulful love here. This is important work."
"I took two weekend workshops prior to joining a facilitator's training, and right away I see how this training is radically deeper. The biggest part of it is how we can recognize our deeply engrained patterns, which ultimately prevent us from being authentic with our selves, others, and wholeness. You have no idea what it is until you personally experience it. Thank you Philip! You saved my life!"
"This work isn't about giving you a new set of rules to live by – it's about helping you encounter the divisions that live within you and which our culture takes for granted, and discover how to move beyond them."
Questions you might have
Can I join the TEPP Facilitator Training without taking a workshop first?

Ideally all participants will have experienced the weekend workshop prior to the first session. However there have been individuals keen to take the training who haven't had an opportunity to experience the workshop. In that case, we ask for a commitment to take a workshop prior to the start of the second session.  

Those who have signed up for the training can sign up for any workshop at 50% off the regular rate. They also get a 50% discount on any workshop during the training year.
If I'm able to participate in the first training session but am unable to do the second, would I have an opportunity to complete the final two training sessions another year?

Switching between training sessions is tricky.  The number of participants is limited to 18, so unless someone dropped out, there would not be a spot. That having been said, it's something we have done, and would be willing consider doing again if all the circumstances were right.
I live near the retreat center. Can I just commute?

Unfortunately no. There are several key reasons for this: staying together, sharing meals and enjoying the spontaneous conversations that occur throughout the mornings and evenings really helps the group bond and the work deepen. The retreat setting itself also plays a role in fostering the connection that then carries us between sessions. We are held by the space and supported by the gorgeous food prepared for us – far from the habitual snags of our home life.
Will I be able to lead the Radical Wholeness workshop at the end of the training?

At the end of the training, graduates who want to go ahead and run Radical Wholeness workshops usually begin with two- or three-hour events, sharing the curriculum in bite-sized chunks as they become increasingly familiar with it. When a graduate feels ready to facilitate the full weekend workshop and Philip agrees, he will include their name on his website as a certified facilitator.
I don't plan to teach the workshop, is the the training still right for me?

Absolutely. Many people have taken the training solely for their own deepening of experience.
What happens after the training?

We are always looking for ways to foster the connection and community that grows out of each training. We also want to support those who are taking the work into the world, whether through teaching Radical Wholeness workshops or incorporating the practices into their own work. We have a private group on Mighty Networks for TEPP Facilitators and will be scheduling some retreats just for facilitator graduates.
How do I pay for the training?

We offer different payment options which are explained on the info page specific to each training. The training needs to be paid in full prior to the start of the second session.
What is the refund or cancellation policy?

It is understood that by signing up for the training you are expressing a commitment to complete the full year. However:

- If we cancel a facilitator training session for any reason, fees for that session will be fully refunded.

- If a registrant withdraws from a facilitator training more than 4 weeks before it has begun, a full refund will be issued minus $250 (which can be applied as a credit towards any future facilitator training within the next 2 years.)

- If a registrant withdraws with less than 4 weeks' notice prior to the commencement of the training, no refund will be issued.
I still have questions. What should I do?

Fill out the contact form and send us your questions! If we can't answer them by email we'll suggest meeting for a short phone or Zoom call.
Meet the TEPP Co-Directors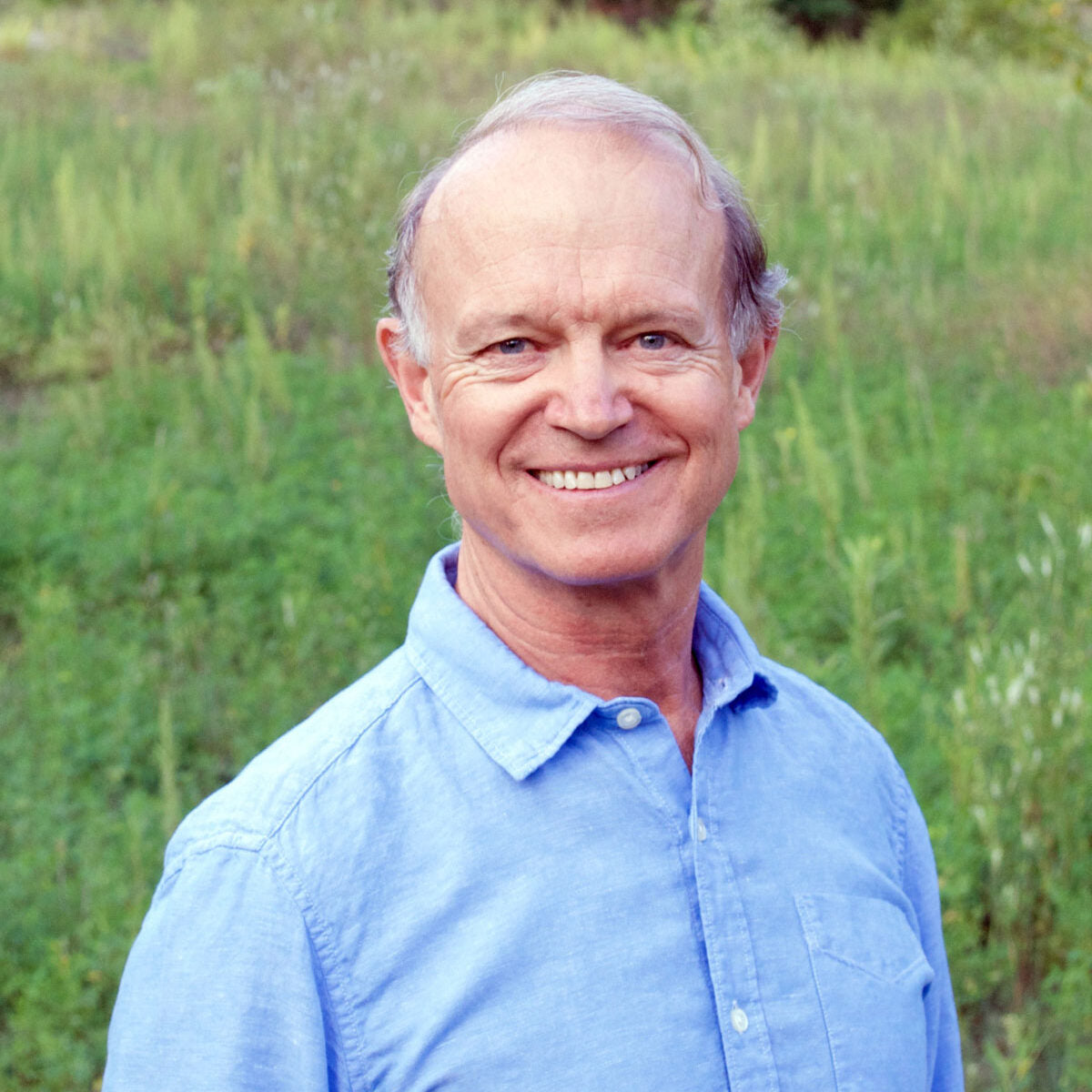 Philip Shepherd
Author, Actor & Embodiment Facilitator
Philip Shepherd is recognized as a leader in the global embodiment movement. He is the founder and co-director of The Embodied Present Process™. Philip's unique techniques have been developed to transform our disconnected experience of self and world, and are based on the vision articulated in his celebrated books, New Self, New World (2010) and Radical Wholeness (2017).He has a new book Deep Fitness, co-authored withAndrei Yakovenkowhich as released in October, 2021. He leads workshops around the world, creating a network of people practicing embodiment.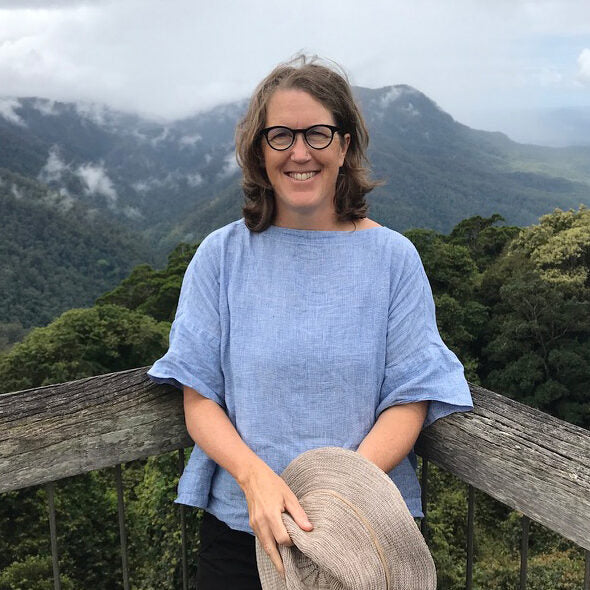 Allyson Woodrooffe
Certified Coach & Embodiment Facilitator
Allyson Woodrooffe is the co-founder of The Embodied Present Process™, and is also certified as a Co-Active Professional Coach. She brings the strengths of both modalities and her natural compassion and embodied intuition to the work she does, which is dedicated to helping women move into an embodied clarity in which anxiety is eased and a grounded resilience discovered.